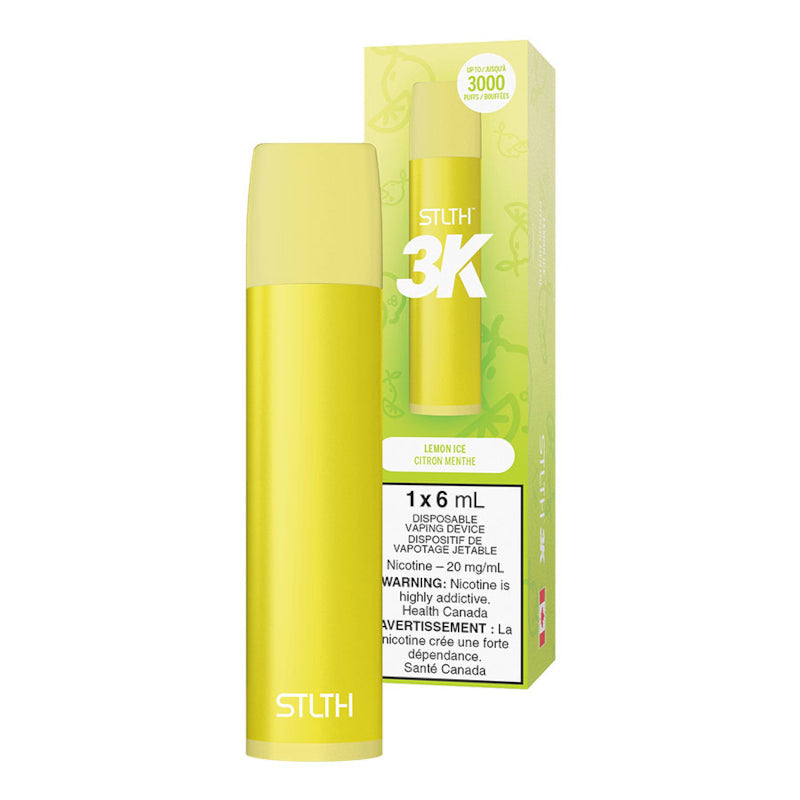 STLTH
STLTH 3K Disposable Vape - Lemon Ice
If you're looking for the perfect on-the-go vaping solution, the Stlth 3K could be the disposable for you.  With up to 3000 puffs, this compact and powerful device is pre-charged and ready to use out of the box. The metallic finish gives a sturdy and premium feel in the hand, making it easy to take with you wherever you go. The Stlth 3K contains 6mL of e-liquid with a nicotine strength of 20mg/mL and has an internal 800mAh battery to ensure you can enjoy it immediately without having to worry about charging. Whether you're a first-time vaper or a seasoned pro, the STLTH 3K disposable vape is the ideal choice for a convenient and enjoyable vaping experience.
Disposable vapes make transitioning from cigarettes much easier as they're ready to use out of the box, with no buttons, pods, liquids to worry about or set up. The STLTH 3K Box features all the reliability and quality we've come to know with STLTH.  Plus the wide variety of flavors available almost guarantees you'll find something you think is amazing.
FEATURES and BENEFITS
Incredible flavour.  Available in a wide variety of flavours.
Ease of use. Fully charged out of the box and ready for draw-triggered activation. Just inhale and go.
Discreet.  Easy to pocket and take anywhere you go without drawing unwanted attention. No massive clouds here.
Long-Lasting. Comes fully charged with 6.0mL of ejuice.
Peace of Mind. Comes standard with over-inhale and short circuit protection so there are no dry hits giving off any burnt taste.
 
Puffs : Up to 3,000 puffs
E-Liquid Capacity : 6.0mL
Nicotine Strength : 20mg
Coil: Mesh
We want your review!
 Have you had a chance to use these new STLTH 3K Disposables? Please leave a review for the rest of Canada to read. Share your enthusiasm, thoughts and experience with the world. You never know who it may help out!