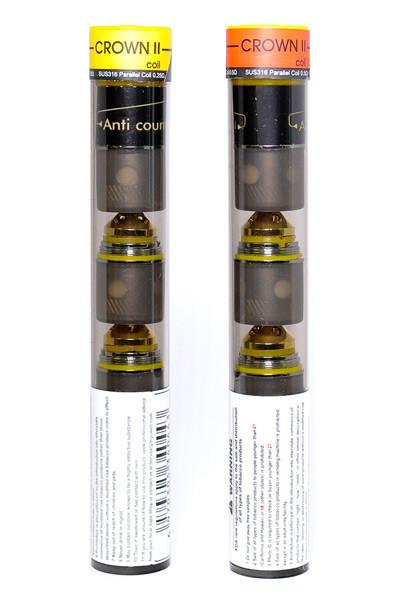 Uwell
Uwell Crown 2 Coils - 4 Pack
Uwell Crown 2 Replacement Coils are specially made with a cone-shaped connector design, allowing optimal airflow directly into the core. The integration of large wicking ports allows faster ramp-up speed as well as well-balanced flavor recreation. It is constructed with stainless steel encasing the core of organic cotton and 316 Stainless Steel or Kanthal heating elements.
Available in 0.5ohm and 0.25ohm 316L stainless steel.
*These are the version 3 coils.  You can identify version 3 coils by two yellow coloured seals on them, compared with the older coils that had one black and one yellow.  Version 3 fixed problems users were experiencing with older versions burning prematurely. It appeared to have been caused by the cotton being too tightly packed, preventing proper wicking.  This is now addressed in these new version coils.
Please note: In order to use sub ohm/TC coils, it is important to use a device that is capable of firing at sub ohm levels and/or supports temperature controlled vaping. If you are unsure if your device is compatible, please contact us.
We want your review!
Have you had a chance to use these Uwell Crown 2 coils? Please leave a review for the rest of Canada to read. Share your enthusiasm, thoughts and experience with the world. You never know who it may help out!