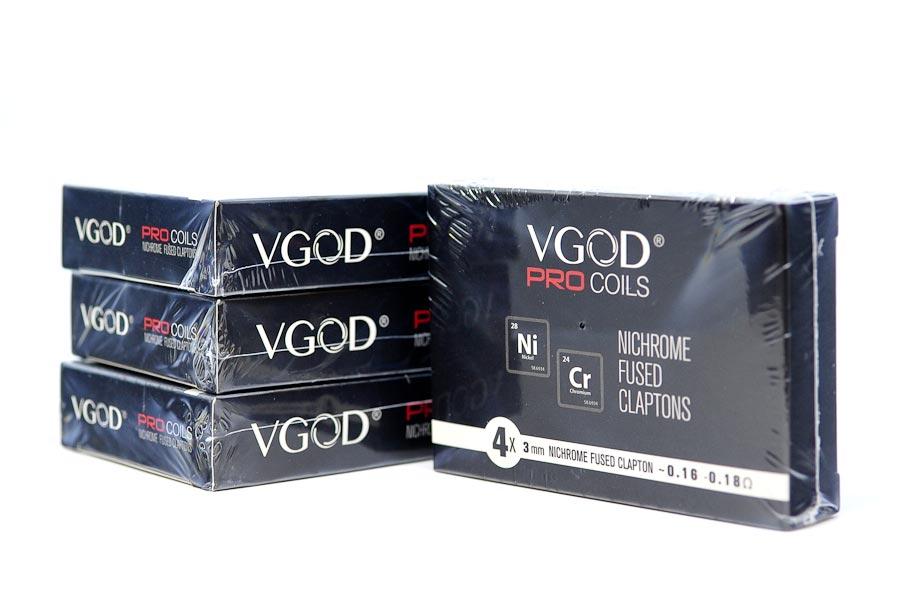 VGod
VGod Pro NiCr Fused Clapton Pro Coils 4 pack
Whenever you buy a genuine VGod atomizer, the first thing you'll notice is how good the included fused clapton coils are.  That's why we've finally decided to start stocking replacement coils.  Minimal work is needed before they fire up nice and evenly.  The flavour the coils produce is amazing, and they last long.  We typically see 1-2 months before needing to change them.
Why use fused nichrome fused claptons?  Because they feature tons of wire surface area compared to straight macro wire builds, which means tons of flavour.  Also, nichrome heats up much more quickly than kanthal, giving a quicker ramp up time for immediate satisfaction.  
What's more is the incredible price for these coils.  You'll receive a 4 pack in a beautiful VGod tin with a supply of cotton, to boot.  
Available in:
Nickel Chromium Fused Claptons 3mm 6 wrap (2 x 26AWG + 40AWG) - approx 0.17ohm per pair, or .35ohm in single coil configuration
We want your review!
Have you had a chance to use the VGod NiCr Fused Clapton Coils? Please leave a review for the rest of Canada to read. Share your enthusiasm, thoughts and experience with the world. You never know who it may help out!