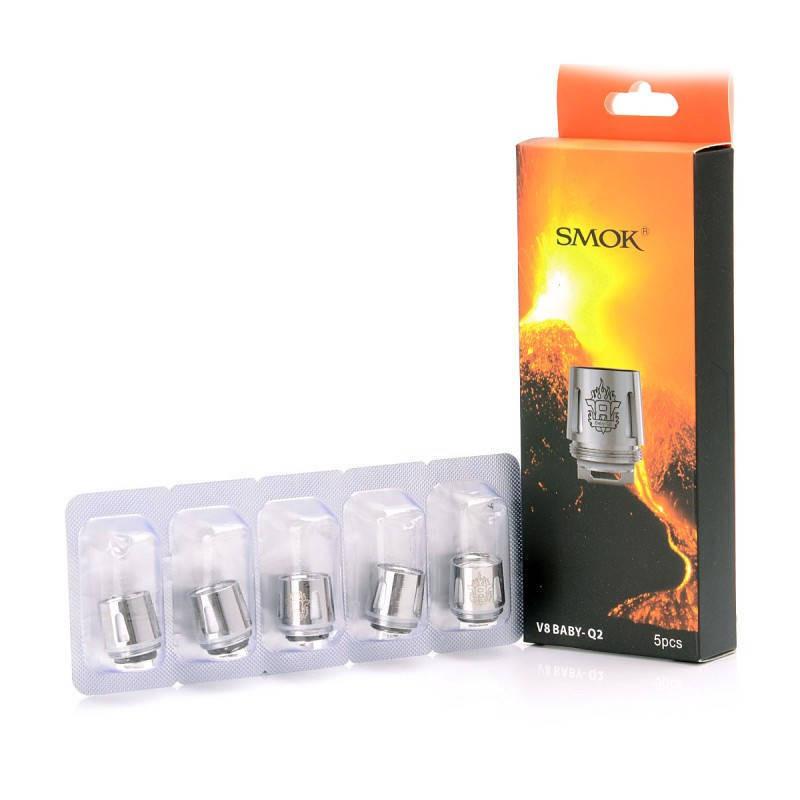 Smok
Smok V8 Baby-Q2 Coils - 5 Pack
For use with the TFV8 Baby Beast & Big Baby Tanks, these coils are engineered to provide airflow and huge clouds that no other coil can touch.
The V8 Baby-Q2 is a patented coil design with a resistance of 0.4ohms (rated for 40-80W, best from 55-65W) or 0.6ohms (rated for 20-50W, best from 30-40W) that was created specially to balance cloud and flavor production.
Please note: In order to use these sub ohm/TC coils, it is important to use a battery which is capable of firing at sub ohm levels and/or supports temperature controlled vaping. If you are unsure if your battery is compatible, please contact us.
We want your review!
Have you had a chance to use these Smok TFV8 Baby-Q2 coils? Please leave a review for the rest of Canada to read. Share your enthusiasm, thoughts and experience with the world. You never know who it may help out!
Coils
They are amazing I use them all the time on average I get about a week to week and a half use from each
Baby Q2 coils
They are awesome good flavour and I get almost 2 weeks out of a coil 👍👍
Staff is allways great and helpfull with any quetion you have
The people at their Vape very very friendly show you everything that you need to know about vaping and the product that they carry over All great people there I'm very good products
Coils
They are amazing I use them all the time on average I get about a week to week and a half use from each
Baby Q2 coils
They are awesome good flavour and I get almost 2 weeks out of a coil 👍👍
Staff is allways great and helpfull with any quetion you have
The people at their Vape very very friendly show you everything that you need to know about vaping and the product that they carry over All great people there I'm very good products